Welcome to all my new visitors from Jamie @ For Love of Cupcakes Make Yourself Monday Link-Up! This is my second link-up! I've been a busy bee!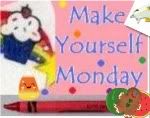 A few weeks ago Jamie @ For Love of Cupcakes posted a blog post on How to Make Your Own Subway Art. I read the post and thought man that is AWESOME but I have NO IDEA what kind of words to put on my own Subway Art. I didn't really think about until about a week later when someone in my Disney Addicts Facebook Group posted this tutorial to make Subway Art in Picnik. Before I knew it everyone in the group was making Disney-Themed Subway Art. Of course I couldn't be left out of the Disney Fun so I sat down and created my own Subway Art. Everyone was making Disney food related Subway Art so I decided to make one based on the rides in Magic Kingdom.
Magic Kingdom is one of my favorite parks at Walt Disney World. I think because it has all the "Disney Classics." I really like how on this version of my Subway Art I Made "Main Street" look like a real street with all the stores/eateries in the middle. I also put all the "LANDS" in the same order as they are on the park map.
All of the purple/pink attractions are my favorite attractions. I also picked fonts that went with the theme of that particular "land" (or I tried to). This took awhile but it was fun to make. I have also pinned it on my Disney board on pinterest. Have you tried to make any Subway Art?
Next Monday I will be starting my Lenten Meal Plan Link-up. I will try to write a post later this week about it with more details! I'm super excited about sharing some yummy meals I've found on Pinterest and for others to share their meals with us so we can have a fun Lent (kind of ironic I know).