Last week Jen commented how the point of this meme is to literally write 7 different things that have ABSOLUTELY NOTHING to do with each other yet many of us that link-up have this need to create a theme or to have the takes connect in some way. After thinking about it I just started laughing at myself. There are many weeks I do a theme because it's just easier for me to prepare/write ahead of time and other times I just write a bunch of random stuff. I think my organized half my brain is like they must go together but then my unorganized part says who cares. It was interesting food for thought and made me glad I wasn't the only one making themes.
I'm really looking forward to doing ABSOLUTELY NOTHING this weekend. As of right now I don't have any plans this weekend. I really need to get a handle on the mess that is my closet. We'll see how far I get…
We have about a month before our Family Reunion Vacation. My Mom's friend will also be joining us and she is super excited to be traveling with "normal" people who don't have a dress code. It should be fun. I'm hoping to work on my new website a bunch during the day when it's way too hot to do anything else.
Have you made any Pinterest projects? I FINALLY made my own version of this awesome MEAL PLAN board!! My sister actually helped me create it and even though she says the paper I chose for my background is too "busy" I think it came out super cute!!
PINTEREST'S VERSION:
MY VERSION:
Wednesday when I went to Publix I picked up a few extra items to make 2 more Pinterest projects: Copy Cat Auntie Anne's Pretzels
and a Copy Cat Disney Dole Whips!!
I can't wait to see how they come out!
Your text here.My Disney Cruise Giveaway is still going on so make sure you head on over here and enter!! A family of four can win a cruise valued up to $3,000!! A Disney Cruise is what we are wanting to do next summer (but we will see)!!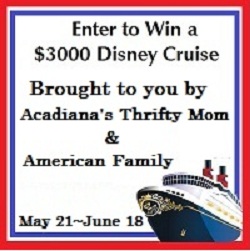 This week Milo and Pierre found a new bed 🙂
For more Quick Takes, visit Conversion Diary!