This has been QUITE a week. I wasn't effected by the storm but I still have tons of friends and family on the east coast that still don't have power. We decided this week that we would make awful candidates for the Amish.
Tonight I am going to Vespers for All Saints Day and the First Friday Art Walk downtown. I have been trying to go to the First Friday Art Walk for several months and I was either sick or it was raining the last several First Fridays. So hopefully it's not too cold and I'm able to enjoy it. YAY for free things to do downtown!
— 3 —
I got a catholic [christmas] catalog in the mail yesterday from Monastery Greetings. And they have the prettiest Advent Wreath in the catalog. I think I might get it. When I was little we had a really nice one and it uh burned when I was in middle school and we haven't found a nice one since. 
The same website as in #3 has some really cool "Nun" products. Look at this cool cookie jar: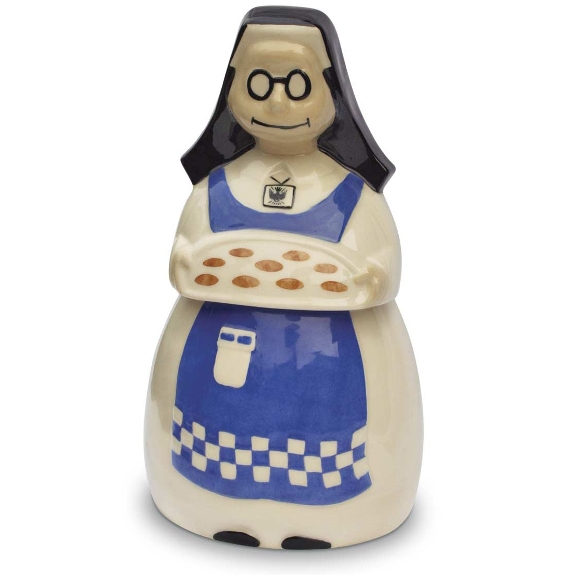 The last 2 weeks I've participated in a new link-up called: What I Wore Sunday. It's about posting pictures of outfits you have worn to church. I've actually really enjoyed it and have loved the wonderful compliments I have been getting in my comments. YAY For self-esteem boosters. I hardly ever post pictures of myself and am a pretty shy/modest person and don't always think I look good in my clothes/pictures. So it's nice to see that others liked the outfits I picked out for Church.
Last fall RIGHT after Halloween I saw this on pinterest:
I thought it was so neat and was sad Fall was over I was unable to make it. When I was in
Publix last weekend I saw little pumpkins and we had avacado's at home so I decided to make my own version on Monday:
I think it came out pretty good 🙂
Yesterday I Early Voted! YAY! So now I've done my civic duty and can block out all politic-ness until November 8th. And no I will not tell you who I voted for it's a secret ballot after all 🙂
For more Quick Takes, visit Conversion Diary!