Welcome to all my new visitors from Jamie @ For Love of Cupcakes Make Yourself Monday Meme! This is my first link-up since I was productive and MADE something from Pinterest over the weekend 🙂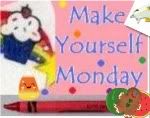 A few weeks ago in my 7 Quick Takes I talked about how I was collecting crayons to make recycled crayons. With valentine's day coming up I found these cute crayons on Pinterest.
I found the cute heart cupcake molds at Target in the dollar bins!
After we peeled all the paper off the crayons we preheated the oven to 275 degrees. We then broke all the crayons into smaller pieces to fit the hearts.
My OCD tendencies forced me to separate all the colors and put all the pinks and reds together for the first few batches (towards the end I gave up on this and mixed all the colors together).  After you put the crayons in the molds you place the molds in the oven for about 15 minutes or until all the crayons have melted (since my molds were flimsy I placed them on a cookie sheet). When you take the hearts out of the oven they will be very liquidity and you can't take them out of the molds until they cool, which can take FOREVER!! But have no fear my sister came up with a RIDICULOUS solution to this problem that ACTUALLY WORKED!! 
We put the Crayon molds over ICE!! We put ICE in a roasting pan and then placed the heart mold on top of the ICE and the crayons cooled much faster! (I laughed at her when she suggested this thinking it wouldn't really do anything but it worked really well.)
I also made some round crayons with cupcake holders but they didn't come out as well. Everyone keeps telling me they look like Reese's Peanut Butter Cups. So if you make the circle ones with cupcake holders make sure your kids know they are CRAYONS and not CHOCOLATE!! (unless going to the ER/calling Poison control is on your to-do list) 
Since we don't have any kids in the house I will be giving back by donating these crayons to my sisters daycare class or to my Mom for the Faith Formation classes at Church (which is where most of the broken crayons came form anyway).