Welcome back to the PRETTY ON PINTEREST LINK-UP!! This weeks theme is PURPLE (my favorite color – as if you couldn't tell)!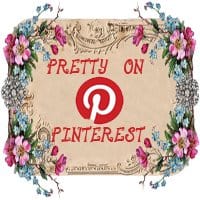 I posted this earlier this week for Make Yourself Monday but it is also PURPLE and too pretty not to post again!
Back in January when I went to Disney I caught Cinderella's Castle when it was PURPLE (it changes colors every few minutes)
Lent starts next week and is represented by the color PURPLE here are some PURPLE letters you can make for your mantle or shelf (add a T & N to make REPENT during Advent!)
Since I LOVE PURPLE I know I will be using purple in my wedding (I've already warned my family and friends) so here are my current PURPLE WEDDING IDEAS!
Who doesn't want a Purple reception? Gorgeous!
And last but not least who DOESN'T want purple flowers for their purple bridesmaid dresses?